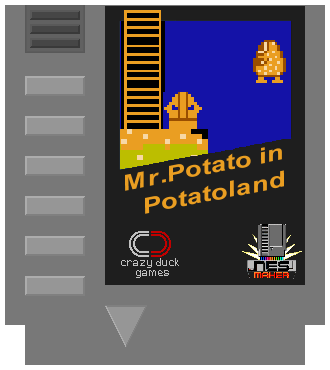 Mr.Potato in Potatoland - NES Version
Join Mr.Potato on his quest to save his wife from the evil cook Ramsord!
Evade Ramsords possessed cooking hats and reach the exit to get to the next level.
Thanks to the great little program NESMAKER this game is a real NES game, which means you need an emulator(which can handle mapper 30) to play it. Mesen should be a good choice for it.

-----------------------------------------------------------------------------------------------------------

This may be the most simplest stuff that NESMAKER can make but i´m still glad to be able to make a real NES game like that. While i already have a pc version of Mr.Potato i always had the NES in mind while making it. And now i was able to.
There´s still a lot.. and i mean a LOT, that i don´t know about making games in NESMAKER, which means i had to change some stuff from the original version. Since i don´t know how to use keys in my game yet i had to change the level design a bit to make it work without them. The level graphic is mainly taken from the original and has just been changed to conform to NES limitations. The sprites on the other hand were too big to be easiliy adapted, so i had to redraw them. The cooking hats still need some animations, maybe i´ll do that at a later time, or maybe in another project. I still haven´t figured out why the standard enemy is changing colors over time.. all music and sound is from the tutorial assets that come with NESMAKER, making my own music and sound is going to take a while, but i´m at least going to try that for my next NES project.


Install instructions
Unzip and start in a NES emulator that supports mapper 30.

Comments
Log in with itch.io to leave a comment.
are there any other emulators I can use to play it? Mesen isn't for Mac
Pretty good. I found the collision detection to be frustrating though.
Thanks for playing! Collision detection has been changed a little, maybe it is a bit less frustrating now.